We are excited to bring Bobby White and Annabel Quisao! 
Bobby teaches vintage swing dances around the world, and holds championship titles and placements in Balboa, Lindy Hop, and Solo Jazz. With each, Bobby strives to innovate and create a new voice, while still ca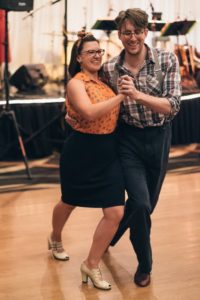 pturing the spirit of the original dancers. He has won almost every major title in the modern Balboa scene, including most recently two back-to-back All Balboa Weekend ACBC Championship titles (2015 & 2016), The International Lindy Hop Championships Balboa division (2015), the California Balboa Classic (2016 & 2017), and the National Jitterbug Championships Balboa division (2016). He is the author of the popular swing dance blog Swungover*, and the book "Practice Swing."  As a dancer, he is widely recognized for his floppy hair, and as a teacher, by his sound effects.
Annabel is known far and wide for her huge grins and prodigious laughter on the dance floor. A student of music all her life, Annabel caught the Lindy Hop bug in 2003 at Colgate University. Addicted to the communication and spontaneity of social dancing, she continued to delve into swing dances while at Penn State where she was introduced to Balboa, Blues dancing, and Collegiate Shag. For the past decade, she has traveled near and far to dance, teach, and compete, taking home top prizes in such events as the International Lindy Hop Championships, All Balboa Weekend, BluesShout, and the California Balboa Classic. Annabel is passionate about fostering a fun and inspiring class environment where students can explore their potential, push their boundaries, and have a good time! Currently, she resides in Washington, DC and teaches at the Jam Cellar.